Okay, not the city, well maybe one day if I ever get there but for those of you who know me, you know I'm a big fan of the amazing Isa Chandra Moscowitz. Hailing from Brooklyn, NY, Isa is a very accomplished, award-winning vegan chef and author of several best-selling cookbooks and I am a HUGE fan. In fact, I'm sitting here writing this article over a bowl of her cauliflower and pesto soup right now.
I've had the idea for this piece for a while and finally got the motivation to do it the other day when flipping through one of her most popular books, 'Veganomicon'. Her potato latkes recipe - a traditional Jewish fried pancake - inspired me to try making them with Jerusalem Artichokes - not because of the Jewish city in Israel but because I had a whole bag full and nothing to do with them. So anyway, back to hailing Moscowitz.
Isa has been equally good to me when I feel like baking indulgent, sweet, naughty stuff like cupcakes; salty and satisfying stuff like vegan BBQ ribs and; light, healthy snacks like quinoa and black bean salad - heck, she has a recipe for every mood but I want to keep this relevant to the topic of my blog so I'll talk about her nifty book released in 2011 called 'Appetite for Reduction'.
I'd like to spruik this book in particular because - as the title suggests - it's focus is on fast and filling, low-fat recipes. It contains 125 delicious recipes that satisfy any craving from lasagne to tacos, curries and stews and all meals contain between 200-400 calories per serving. Its extra good not just because the recipes rule but because the vegetarian diet (while typically high in fiber and low in saturated fats) can go heavy on the carbohydrates, making some vego recipes quite calorie dense - especially the really indulgent and tasty ones. But not here. Isa focuses on creating low-fat, low-sugar, high fiber and satisfying meals using real food (no artificial this or that) PLUS many of the recipes are are both gluten and soy free.
Some favourites of mine include Buffalo Tempeh with Cool Slaw (left) and Quinoa, White Bean and Kale Stew (right). I also cant go past anything with eggplant in it so I loved the Eggplant-Chickpea Curry with Cranberry-Cashew Biryani and I'm yet to try the OMG Oven-Baked Onion Rings but I will have to soon cos they sound and look amazing. Yes, that's correct, OMG is even in the name of the dish, getting hungry? Move over master chef, Isa is a genius.
Oh yeah, I should add that sometimes (well a lot actually) when I'm cooking out of Isa Chandra Moscowitz's cookbooks I find myself singing her name to the tune of the classic song, 'Moskau' by Dschinghis Khan. Yes, thats embarrassing.
So vegans, vegetarians and non-vegetarians alike, if you enjoy tasty food but don't want to stack on the extra pounds AND you want to do it in a healthy and humane way, I cant recommend this book enough. The recipes are so easy to make and yummy that she'll have you eating vegan every night of the week...and you'll look and feel a million dollars for it too!
The woman, the legend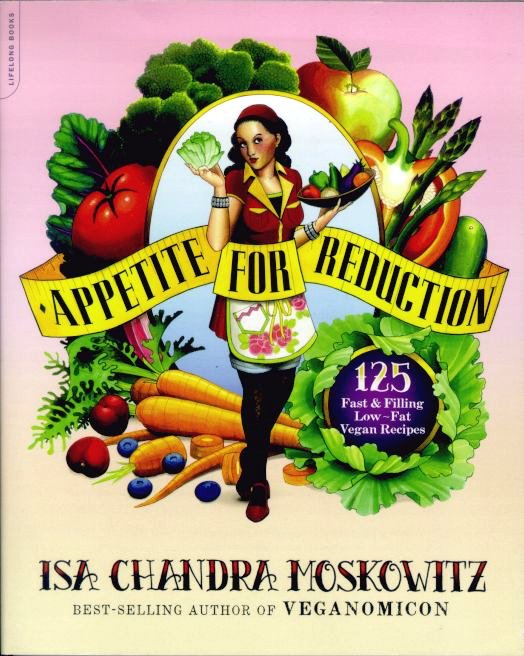 Also, its in the 'links' part of my blog, but check out her website at:
www.theppk.com